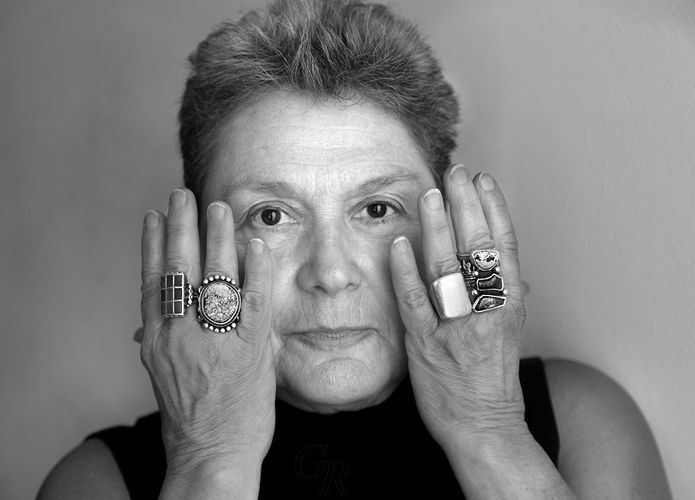 Photo: Grace Roselli,
Pandora's BoxX Project
Joanne Mattera works in a style that is chromatically resonant and compositionally reductive. She has had solo shows in New York City at the Stephen Haller Gallery (1995), OK Harris Works of Art (1996, 2007), and ODETTA Gallery (2019).
Gallery Representation
In the New York City area, Joanne is represented by
Kenise Barnes Fine Art
, Kent, Connecticut, formerly of Larchmont, New York, where her solo,
The Silk Road Paintings,
took place in May 2015. In Chicago she is represented by
Addington Gallery
where her first solo show there,
Hue & Me,
took place in September 2020. In Boston she is represented by
Arden Gallery
, where her 10th solo with the gallery (and 40th career solo),
Joanne Mattera: Silk Road,
took place in December 2020. Some exhibition installations are viewable
here.
Joanne is represented elsewhere around the country: in Atlanta by the
Marcia Wood Gallery
; in Denver by
Space Gallery
; in the Bay Area by
Adler & Co. Gallery
; and on Cape Cod where a solo at
Miller White Fine Arts
is planned for August 2022. Joanne also enjoys associations with
Margaret Thatcher Projects
, New York City; Projects Gallery, Miami; and the
Boston Drawing Project
at Carroll & Sons Gallery. She participates in curated exhibitions with
American Abstract Artists
in New York City and elsewhere. Her work is included in
Geoform
, an international online archive of geometric abstraction curated by the late artist Julie Karabenick.
Collections
Joanne's work is in the collections of the New Britain Museum of American Art, Connecticut; Montclair Art Museum, New Jersey; Connecticut College Print Department; University Collections at the University of Albany; Wheaton College, Norton, Mass.; the U.S. State Department, Washington, D.C.; and institutional and private collections internationally.
Writing and curating
In addition to her studio practice, Joanne writes regularly and curates when opportunities present. Her memoir,
Vita: Growing Up Italian, Coming Out, and Making a Life in Art
,
was published in 2019 by Well-Fed Artist Press in New York City. Through her
Joanne Mattera Art Blog
she reports on exhibitions and art fairs in New York City, Miami, and elsewhere.
Curatorial projects include
Textility
in 2012 at the Visual Arts Center of New Jersey, Summit, which she produced with the institution's curator, Mary Birmingham; projects at the Rice Polak Gallery in Provincetown in 2011 and 2012;
A Few Conversations about Color
at DM Contemporary in Manhattan in 2015; and
Depth Perception
in 2017 at the Cape Cod Museum of Art, Dennis, Massachusetts, which she curated with Cherie Mittenthal in conjunction with the 11th International Encaustic Conference.
A new project,
Italianità,
brings together the work and stories of visual artists who are Italian American. While the artists' aesthetic is not necessarily reflective of their experience as first-, second-, or third-generation Italian Americans, their stories offer interwoven threads of language and culture within the Italian diaspora.
Joanne is the founder and director emerita of the International Encaustic Conference, an event devoted to a contemporary medium with a historic past. Relatedly, she is the author of the preeminent book on encaustic,
The Art of Encaustic Painting: Contemporary Expression in the Ancient Medium of Pigmented Wax (Watson-Guptill, 2001).
Joanne divides her time between Manhattan and Massachusetts.
917-921-0044